Zlender Images
S P E C T R A
Wolf-Rayet Stars
The Wolf-Rayet stars are massive, hot stars, whose spectra exhibit strong, broad emission lines. WR-stars are in an advanced stage of evolution where they have lost their atmospheres and are still ejecting hot gas at high speed (>1000 km/s). Their exposed cores show exceptional surface temperature of 40.000-70.000 K typical.
There are 2 classes of Wolf-Rayet stars: WN stars, where the ions of helium and nitrogen dominate and WC stars, where the ions of carbon, oxygen and helium are found.

WR-stars are candidates for future supernova explosions.
The H-alpha image below shows NGC 6888 in constellation Cygnus, with WR 136 at the center.
Image data: Refractor 120 f/5, Astronimik H-alpha filter (13nm), ST8-E, exptime 600 sec, 1x1, detail, 08/21/03
The spectrum below is from WR 136. Date: 05/15/2000, Equipment: 8"/F4.5 Newtonian, ST8-E camera in 2x2 binning mode, 9 images, exptime 45sec, Rainbow Optics grating at nosepiece of camera.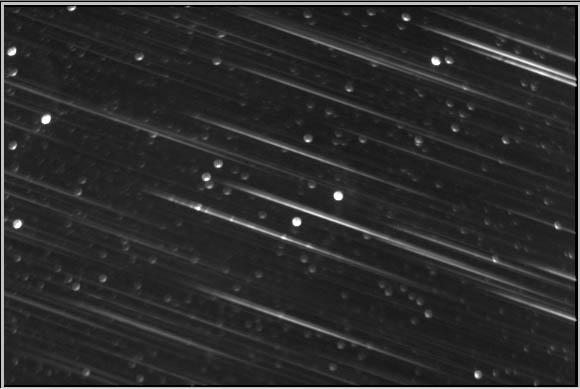 Spectrum of Wolf-Rayet star No.136 in dense star field of Cygnus Milky way. (Just below center, note the spectrum of carbon star RS Cyg in upper right corner)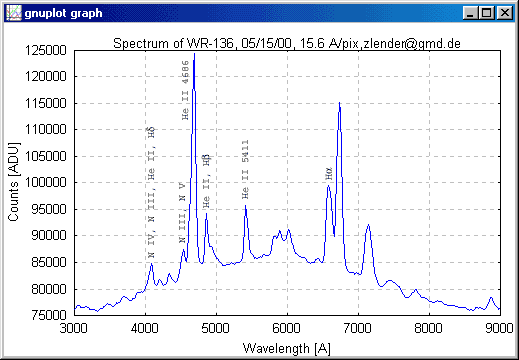 Emission line spectrum of 7.44mag star HD 192163 (WR-136).
This is an example of an WN6 star, where 6 stands for a spectral subtype. The spectrum shows emission lines of He II, N III, N IV and N V.
VIIth Catalogue of Galactic Wolf-Rayet Stars, van der Hucht, K.A. 2001, New Astronomy Reviews 45, 135
Atlas of optical spectrophotometry of Wolf-Rayet (WC and WO sequences)
Torres A.V., Massey. P. 1987 ApJ. Suppl. 65, 459. Available at CDS
Wolf-Rayet stars are very rare. No more than 150 were found in our galaxy. A list of Wolf-Rayet stars, brighter than 8.5mag, which are accessible from the northern hemisphere follows (J2000.0).




WR HD R.A. Dec. Type V
6 50896 6 54 13.0 -23 55 42 WN5 6.74
111 165763 18 08 28.5 -21 15 11 WC5 7.68
133 190918 20 05 57.3 +35 47 17 WN4 6.78
134 191765 20 10 14.2 +36 10 35 WN6 8.02
135 192103 20 11 53.5 +36 11 51 WC8 8.51
136 192163 20 12 06.5 +38 21 17 WN6 7.44
137 192641 20 14 31.8 +36 39 39 WC7 7.95
138 193077 20 17 00.0 +37 25 23 WN5 8.06
139 193576 20 19 32.4 +38 43 54 WN5 8.27
140 193793 20 20 28.1 +43 51 17 WC7 6.88



First echelle spectra of WR136 and WR140 can be seen on my UFES-page
Comments welcome, contact:
---